2016 CMB Feature Twirler – Steffany Lien
The UofL Cardinal Marching Band is pleased to welcome Ms. Steffany Lien as the new Cardinal Girl Feature Twirler! Currently the Feature Twirler for the Lincoln Southwest High School Marching Band in Nebraska, Steffany is one of the most accomplished twirlers in the world. She was a member of the U.S. Twirling Team in 2009, 2012, and 2015 and won 6 gold world championship titles, including World Strut Champion, World Solo Champion, World 2-baton Champion, and World Rhythmic Champion. She holds 14 gold national titles, including the U.S. Grand National Champion, U.S. National Solo Champion, U.S. National Strut Champion, U.S. National 2-baton Champion and U.S. National Rhythmic Champion. Additionally, she was gold medalist for the World Open 3-Baton Championship for 7 consecutive years.
Steffany was named 2016 Miss Majorette of America.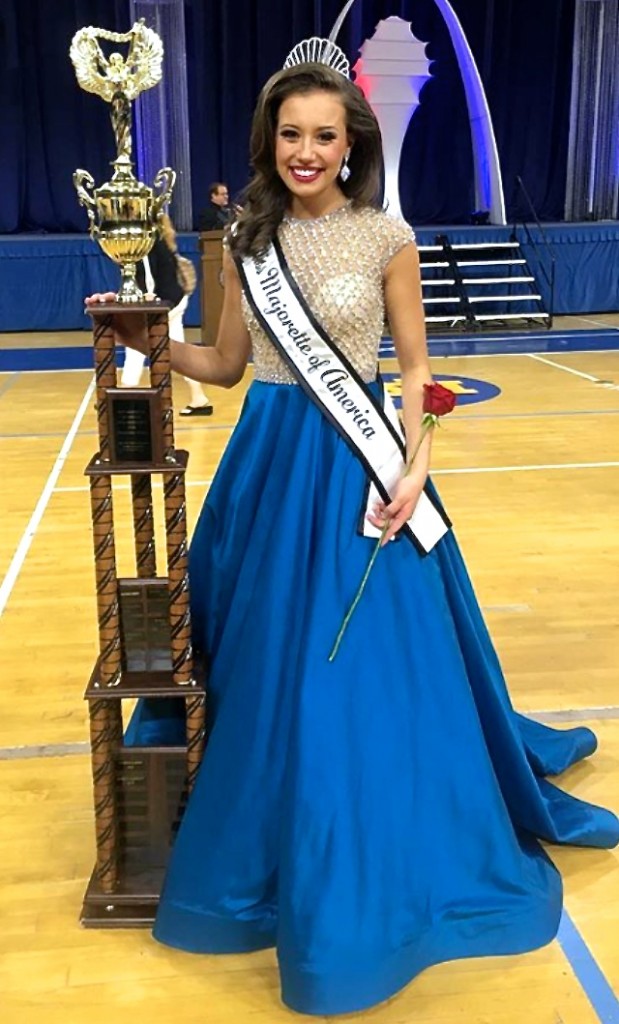 Additional accolades include being Miss Nebraska's Outstanding Teen in 2015, earning top 10 in Miss America's Outstanding Teen in 2015, winning Junior Miss Majorette of America in 2012 and Pre-Teen Miss Majorette of America in 2011. She also served as a delegate to Peru for the Peru Lion's Club in 2014 and 2015.
Academically, Steffany is in the top of her class and earned a National Scholar Award at the University of Louisville. Steffany's volunteer work is extensive and includes work with Cause for Paws, Center for People in Need, Juvenile Diabetes Foundation, and Homestead Rehabilitation Center, to name a few.
Steffany – congratulations and welcome from the UofL Cardinal Marching Band Family!
2011-2015 CMB Feature Twirler – Melissa Cox
Melissa Cox has been the Feature Twirler for The Cardinal Marching Band since 2011 and is currently pursing an elementary education degree with a concentration in English.  Her first acclaimed came in 2005 when she won nationals and earned the title "Pre-Teen Miss Majorette of America."  In 2006 she traveled to Eindhoven,  Netherlands to compete in the World Championships for "strut" and then again in 2009 to Ghent, Belgium for the World Championships in "strut".  In 2012 Ms. Cox went to Neuchantel, Switzerland to compete for the final time at the World Championships.  Each time taking home first place in the tri-annual competition.   In addition to her success at World Championship, Melissa earned the highest honor in baton twirling "Miss Majorette of America."  In addition to her performance obligations with the CMB, Melissa is currently a member of Chi Omega Sorority.
In 2014, as Miss Lexington, Melissa competed in the Miss Kentucky Scholarship Pageant where she won the preliminary swim suit award and the preliminary talent award!  Placing in the top five of Miss Kentucky finalist, Melissa was named 2nd runner up overall!  Congratulations and thanks for showing your Cardinal pride!
Melissa graduated from the University of Louisville in 2016 with a degree in Education and is currently serving as The Cardinal Marching Band's new Twirler Coach while teaching 4th grade at a local Louisville School!