Click the links below to download and complete the 2016 "Band Day" registration form and performer information form. Deadline for registration forms is
Friday, October 7th

.  Forms/payment(s) must be sent in ONLY by the band director of the school. We will not accept forms/payment(s) sent from individual students or parents.

revised-band-day-letter-11-3-16

2016-band-day-stadium-routing-1

2016-band-day-stadium-routing-2

Guard routine can be viewed at the link below: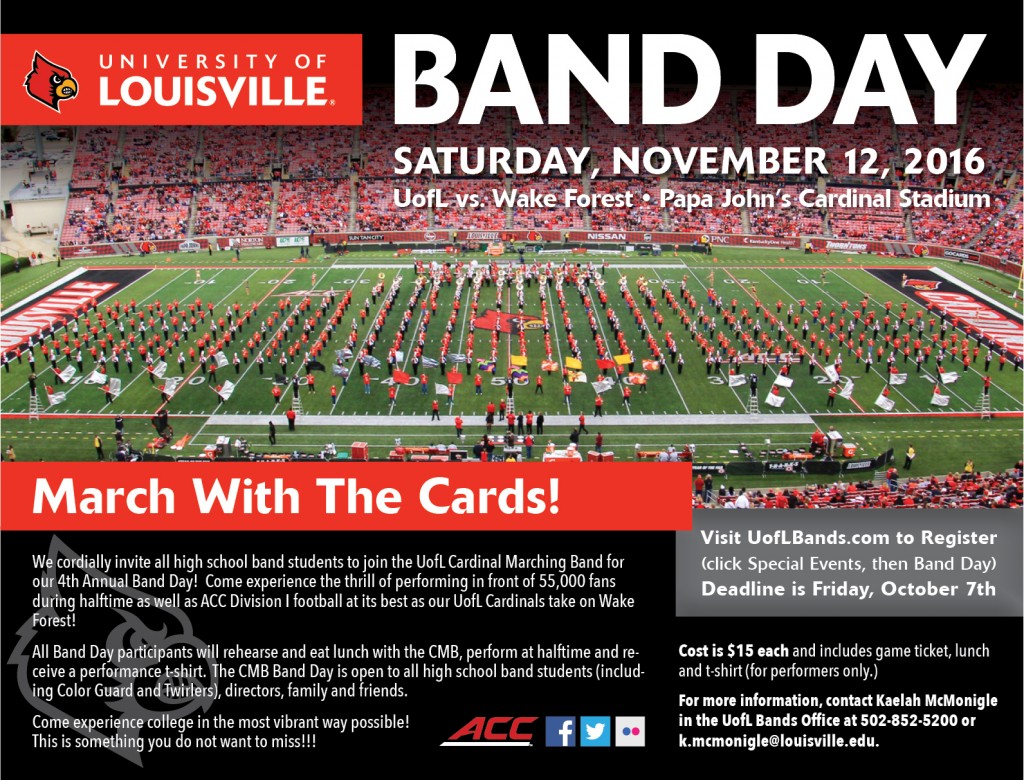 The UofL Cardinal Marching Band "Band Day" provides an opportunity for band directors and their band community (students and parents) to see a collegiate marching band and football team at their best.  The event starts 5 hours prior to kick-off and includes observing a CMB rehearsal in Papa John's Cardinal Stadium, lunch with the band, and admission to the game. Students will also have the opportunity to perform with the Band at half-time! Other special performances by the CMB will include Card's March and Pre-Game.
We will contact participating schools concerning registration, bus parking, stadium directions, and other information. If you have further questions concerning the UofL Cardinal Marching Band "Band Day", please contact Kaelah McMonigle at k.mcmonigle@louisville.edu or 502-852-5200.
In 2015, over 400 Band Day Students performed on the field at half-time with the Cardinal Marching Band

Other photos from last year's Band Day can be found here:  2015 BAND DAY PHOTOS
Save
Save
Save
Save
Save
Save
Save
Save
Save
Save
Save
Save
Save