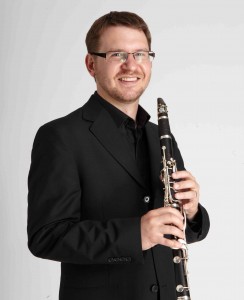 It is a pleasure to welcome Matthew Nelson to the University of Louisville as Assistant Professor of Clarinet. Dr. Nelson comes to Louisville faculty after developing an excellent clarinet studio at Utah Valley University. In addition to his role as a university teacher, he has held the position of principal clarinet with the Utah Chamber Orchestra (Ballet West) and has performed with the Houston and Utah Symphonies.
Dr. Nelson has performed throughout the United States, Europe, and Japan including international
 competitions and premieres. He has been a Nova Chamber Music Series artist since 2011, and he also serves as artist/faculty at the Tuacahn Summer Symphonic Institute in St. George, UT. In 2013 he gave master classes and performed at the Instituto para el Desarrollo Musical in Castellón, Spain. Nelson has also performed at the Schumann Festival, the Gentse Vleugels Festival, the Utah Music Festival, the Beethoven Festival Park City, and the Park City International Music Festival, among others. He performed as part of the "American Professors Clarinet Ensemble" at the International Clarinet Association's 2013 ClarinetFest in Assisi, Italy.
An advocate of new music, Nelson has worked closely with many prominent contemporary composers, including Shulamit Ran, William O. Smith, Andrew Rathbun, Joël-François Durand, Bruce Quaglia, Morris Rosenzweig, Diane Thome, and Eric 
Flesher. He is a founding member of the Alpine Chamber Winds woodwind quintet, which has received critical acclaim for performances of works commissioned by the ensemble.
Nelson completed his doctoral work in clarinet performance at Rice University's Shepherd School of Music in 2009 with his thesis, Morton Feldman's Clarinet Works: A Study Through the Words of the Note Man. He 
received the MM in woodwind performance and the BA with distinction in English from the University of 
Washington.
Please click the links below to listen to samples of Dr. Nelson's performances.
https://www.youtube.com/watch?v=Y4lc8QajD0I